Race Report: The Scenic Trail, Ticino; 113km, 8,000m+
Updated: Nov 17, 2018
Three years ago in 2015 I ran my first ever mountain ultra-marathon. It was the 54km route at the Scenic Trail in Ticino Switzerland, and at that time, is was the second hardest race (behind Ironman Wales) I had ever done.
It took about 9 hours in hot and humid conditions, and I distinctly remember finishing the race and saying to myself "never again". Well, not necessarily never again (we all know how that works out), but certainly not for a while. I also vividly saying to my friends and family that I had absolutely no desire whatsoever in running twice that distance. No way mate.
Fast forward to June 2018, I'm back in the same village where it all began; Tesserete in Ticino. Not only am I back to the scene of the crime but I am toeing the line of one of the toughest mountain races in the trail running calendar; the 113km Scenic Trail route, with 7,500+ of vertical gain. So much for never again…
My preparations for the race went well, I managed a good block of about 4 weeks leading into the race averaging about 80-100km per week and having recently resigned from my job I had a little less (but certainly not zero) stress, on my plate. Training for races like this can always be better, but with life strains whether it be work, family or social life it's about doing the best that you can and being ok with that. I'm not a professional athlete so I consider making the start line of a race like this injury and illness free a relative success!
I also vividly saying to my friends and family that I had absolutely no desire whatsoever in running twice that distance. No way mate. 
The race started at 12:00 midnight, which is a late start, or very early depending on how you look at it. I'd already been awake for 16 hours by the time the race started and I actually felt a bit tired (despite being a night person) as we set off under clear and skies. Plenty to catch up on and chat about with my running partner in crime Mikko, helped keep us both awake until we logged the first few km's. Straight up the first climb we went, climbing from 500m to around 1200m in warm and muggy conditions. It had threatened to rain but coming down the first decent, I'd happily take humid over wet and slippery!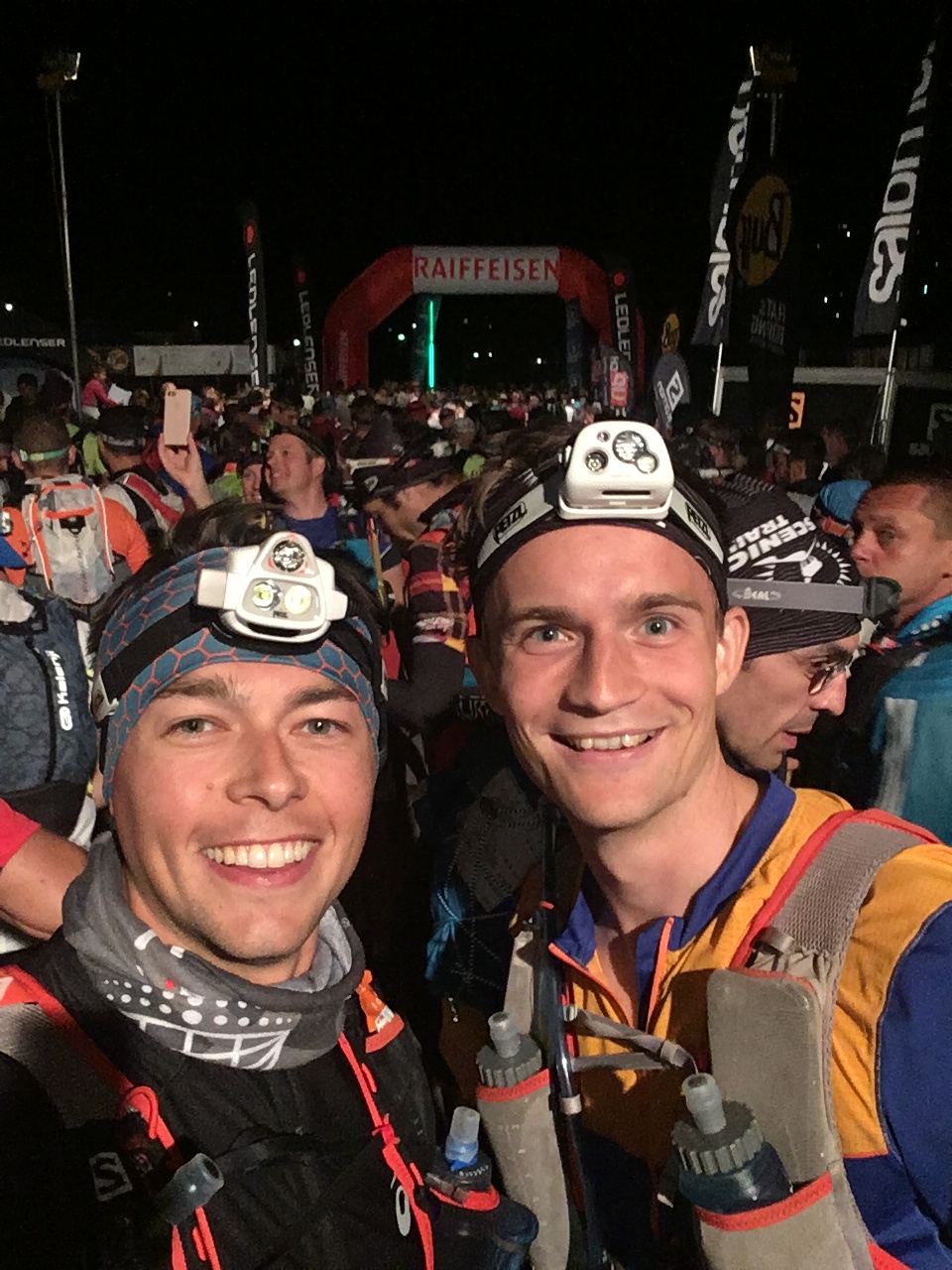 Mikko and I on the start line, at 12:00 midnight!
Any tiredness soon disappeared when dawn broke around 5am and the sun slowly crept up from behind an impressive set of mountains. We crested Monte Tammaro just below 2,000m and 30km into the race and were welcomed with what is probably the most impressive sunrise I've ever seen. With a backdrop of Lake Maggiore on one side and the Monte Rosa Massif on the other, I felt quite emotional. How lucky I am to be on this mountain to witness this, yes I know its stupid o'clock in the morning, but its moments like that which make it all worthwhile.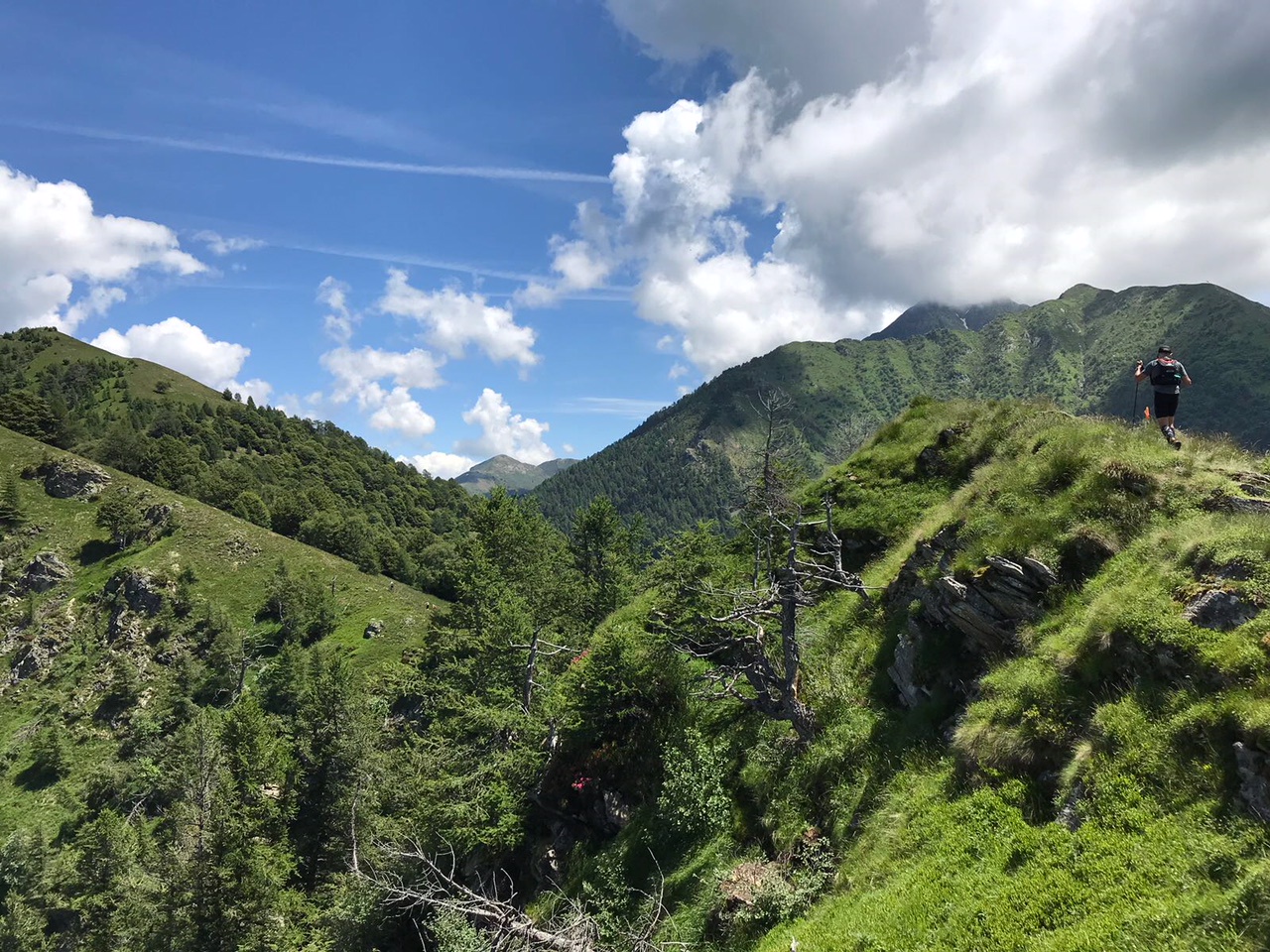 I'd love to give you a full km by km break down of the race, but firstly that would make this blog excessively long, and secondly being honest a lot of the race is a bit of a blur. Wicked sleep deprivation and climb after endless climb made for a very long day in the office. Mentally it was extremely tough, and having to accept that our average pace was not only very slow, but much slower than we anticipated was very hard to accept. Mikko and I initially wanted to complete this race in under 24 hours, but it soon became apparent that this wasn't going to be achievable. At each check point our anticipated finish time seemed to slip further and further out of our grasp, with looming cut off points now becoming a real concern.
At the 85th km we crested what we thought was the highest point of the race in the 2200m Col de Gazzirola, a real slog to the top, only to be greeted by a 300m decent and another 500m climb behind it. Moments like that make your heart sink, and made me question why on earth I was doing this. The physical and emotional trauma, the highs and lows that you go through over a 2 day period with no sleep. You start to question your own sanity, your mental wellbeing and indeed 'why'.
At each check point our anticipated finish time seemed to slip further and further out of our grasp, with looming cut off points now becoming a real concern.
What you have to realise at this point however is that your body needs sleep, it needs rest and it wants you to stop. Evolution has taught our bodies to stay safe and therefore stay inside of that zone of comfort and security, to stop when it gets tough or when alarm bells start to ring. Rarely outside of running or sport in general, do I push these boundaries so hard, and these are the moments when you can prove how much your body is capable of. By no coincidence do these moments of adversity coincide with our greatest successes, achievements and feelings of absolute joy. We are capable of much more than we think, and there was absolutely not a chance on earth I wasn't finishing this race.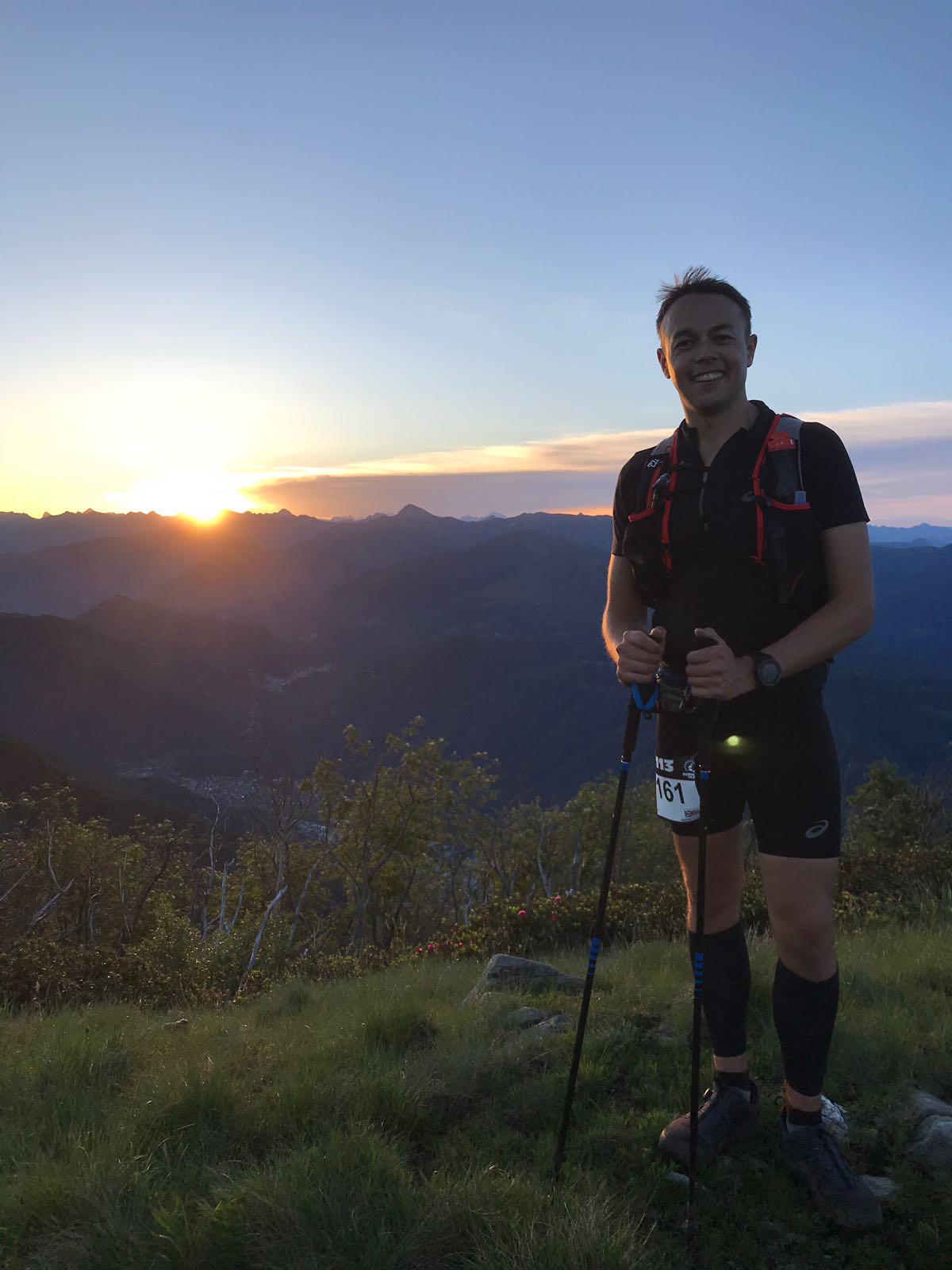 Sunrise over Monte Tammaro
We made the last cut off at the 100km mark with 20 minutes to spare, leaving ourselves with over 4 hours to run the last 13km. I have absolutely no doubt that anyone reading this is thinking '13km in 4 hours'?! Piece of cake.  In most instances you're absolutely right, in fact in normal race conditions I can happily average under 4 minutes per km without too much trouble, but this is different. Dig deep and one last push.
After 30 hours and 54 minutes of non-stop movement, and 50 hours without sleep, we were done. The moment we had literally dreamed of whilst sleep running. Medal, shower, food. Off into the land of nothingness. Never again.
Until next time.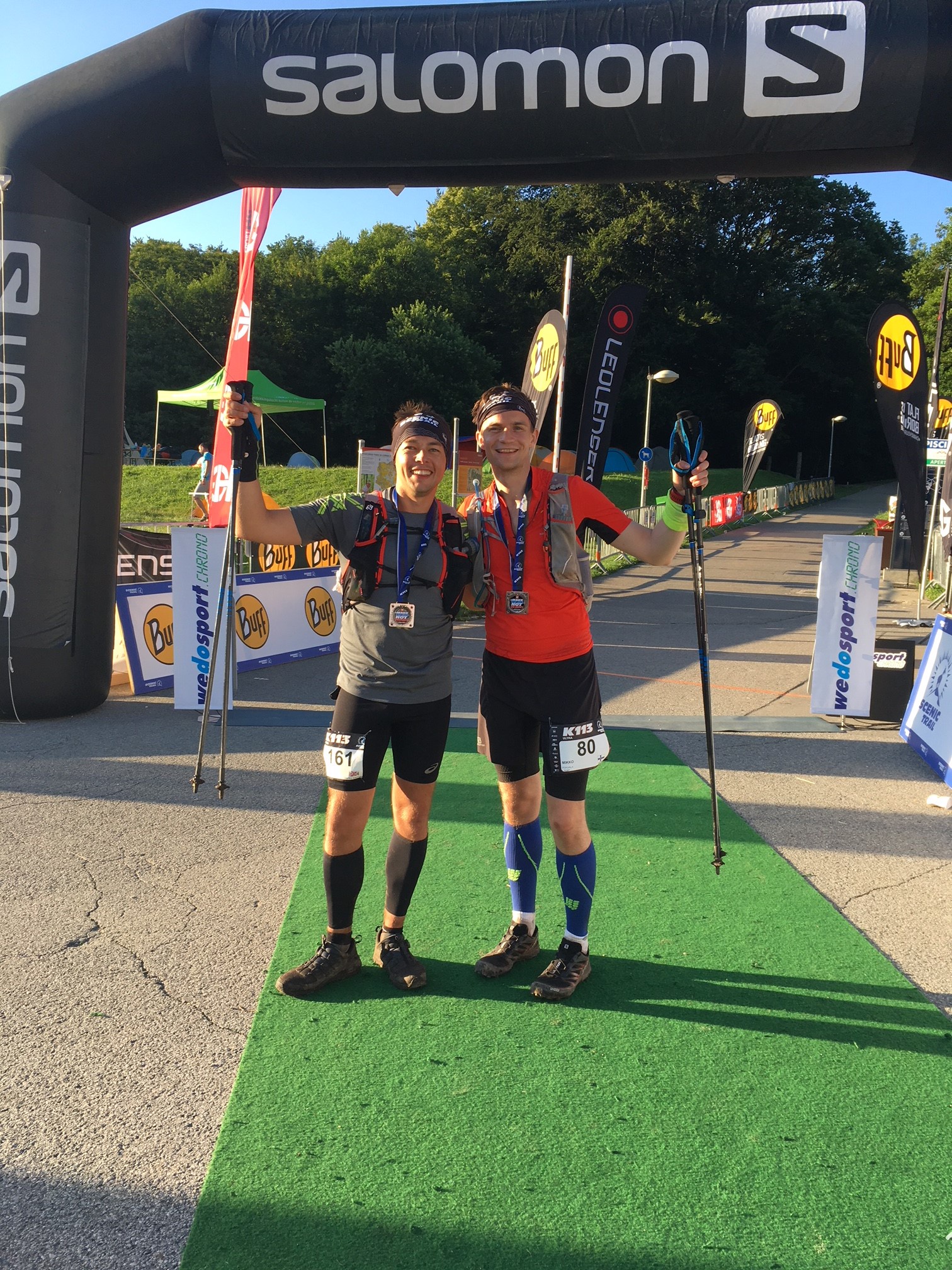 Many congratulations go out to my girlfriend Julia who beat her running record of 14 hours and completed the 54km route, and my friend Pascal for smashing the 113km route in just over 21 hours; a truly amazing feat. My running buddy Mikko, another one down, thank you for keeping me sane (just)! You're all inspirational and helped make this weekend so epic. Finally, thank you to Scenic Trail for putting on an incredible event and one of the best marked courses I've ever run.  
Let me know if you found this interesting or if you were also running the Scenic Trail, feel free to reach out via Instagram or through the contact below.
Don`t forget to subscribe for future posts!